Healthy Lombard would like to provide G.Y.M. (Get Yourself Moving) Bags for every Kindergarten, 1st and 2nd-grade classroom in the Village of Lombard from both public and private schools as well as for kids enrolled in local after-school care programs at the Lombard Park District and the Tri-Town YMCA. Currently, this activity is only being done at a few schools in Lombard and at the Lombard Park District and the Tri-Town YMCA after-school care programs.
  The activity provides the opportunity for two – five students to take home a G.Y.M. Bag each Friday so they can continue to "exercise" 60 minutes a day during the weekend.
The bag contains balls, a Frisbee, a jump rope, a paddleball, books to be read to parents, a list of healthful hints, and a journal. The students use all the items in the bag and then write up what they did on the journal sheet. It is then displayed either on a hallway or gym bulletin board the following week.
This is a great activity because it involves children and parents, the left and right side of the brain, and … it's FUN!
If your Lombard Area School is not participating, please ask the principal or Physical Education to contact us at [email protected]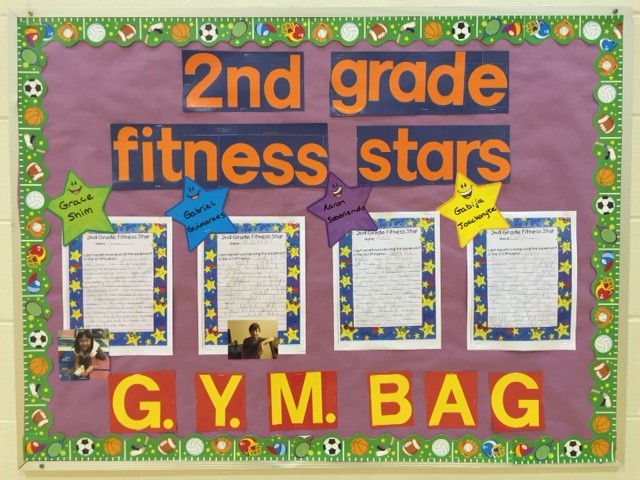 G.Y.M. Bag Bulletin Board at Butterfield School in District 44.
We appreciate the support of their
Physical Education Instructor Carrie Fernandez!
Healthy Lombard
Contact Healthy Lombard for more information!