Thanks for participating in
Healthy Lombard's Flat Apple Summer Activity!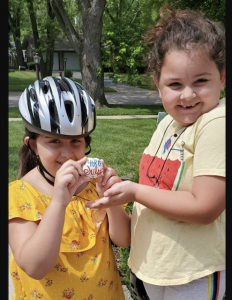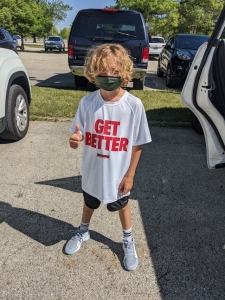 Because of Covid-19, the September Healthy Lombard Board and Partners Meetings are being conducted by Zoom. 
Therefore we have changed the format of selecting the 2020 Flat Apple winners.
Participation tickets were earned through the Flat Apple Activity Tracker Forms and through videos or selfies submitted to Healthy Lombard. Following the September Board Meeting, volunteers from the Lombard Park District selected from all the participation tickets and 17 individuals won prizes. This year all prizes are in the form of a gift card or certificate.
Below is an alphabetical list of names (first and last initial), of the winners. 
To confirm that we have the correct mailing address, the winners were contacted by a separate, individualized email.
Then, after receiving a return email from the winner, we will mail out the prizes. Yes – even the bike will be awarded through a gift card.
If the winner does not confirm notification by September 30, 2020, a new winning ticket will be selected by the Healthy Lombard Board President.
Thanks again for participating!
2020 Flat Apple Winners include:
Alana M. – Lombard Golf Course Golf Round for 2
Annellies. T. – $25 Babcock Grove Gift Card
Anthony K – $25 Babcock Grove Gift Card
Calvin S. – $25 Babcock Grove Gift Card
Despina T.  – $25 Oriental Trading Gift Certificate
Drake M.  –  J & R Cycle Gift Card
James K. – Lombard Golf Course Golf Round for 2
Kelsey F – DINNER & SHOW for 2 at Medieval Times
Maria T. –  Bike
Ravyn V. – $25 J & R Cycle Gift Card
Ryker T. – Lombard Golf Course Golf Round for 2
Scarlet V. – Lombard Golf Course Golf Round for 2
Shayla M. – $25 Babcock Grove Gift Card
Sydney F. – $25 Babcock Grove Gift Card
Tristan F. – $25 J & R Cycle Gift Card
Viyaan J. – $25 J & R Cycle Gift Card
Zale M – $ 25 J & R Cycle Gift Card